| | | |
| --- | --- | --- |
| | FMCodes - the Grand re-Opening (2022) | |


Dear members of our beloved community,

long time has passed since that Wednesday 15th Feb 2012 when around 19 this board was created by a passioned @Niko. Our board has seen amazing periods of activity, where FMCodes was the point of reference for many Forumotion  forums administrators and users.

Ten years have passed since that goal, and we just want to briefly re-live those moments with you before finally celebrating all together with our new evolution!
Are you ready?

We are, FMCodes.net is here!
A special award for you!
Thanks for being part of our 10th anniversary and for having passed


For this reason, we would like to grant you an award on your profile - as a sign of love from us! Be sure to leave a loveful message below this topic, and our team will assign you the award as soon as possible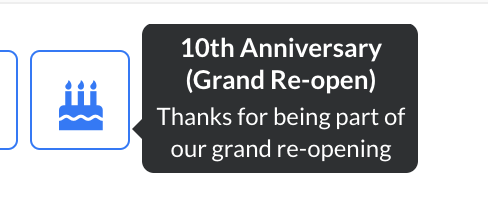 It was Monday 26 Mar 2012 when after many evolutions of our community we reached the final state. The new design that @Mathias and I imported from IPBoard was finally ready to see the light, and FMCodes was finally opened.

Many team members have been with us, among which we would like to remember some of the most important for the life our community:
The very first acknowledgement goes to Mathias, my partner in crime without whom this project would have never seen the light. Thanks from the bottom of my heart.

Nick and LGforum for the Forum Managers - Sir Chivas, ddoesmc and YoshiGM in the support moderators team - and GENJI WATANABE, Th1nK and REXR in the graphic designers team. But of course a huge thanks to all the Team members that spent their energies with us!
The future: FMCodes (2022)
But the more is yet to come, and it is now - with the re-launch of the new and modern version of our community, that is now open and available to host many webmasters and forumers from all over the world!


We put a lot of passion into re-designing the new version, starting from the ashes of the former design before it was leaked on the web and on Forumotion. For this, I would also like to thank @mihai and @Varlot, which supported me in the development of the new design and version of the community - their feedbacks and help have been extremely helpful!





Another goal we (sadly) achieved was the worth of our former domain name fmcodes.com - its value increased up to almost 6.000$  

It was a huge goal achieved thanks to all our Forum members, but because of this we had to redirect our attention towards a new custom brand domain name  


So it was time for www.fmcodes.net to rise!  
Our modern design!
Based on Bootstrap template, our new design is the most customized and modern community now!


Our new version has several of hidden features and options that you only have to discover, and that make this such a powerful forum - which you can also have!
Our stunning features
Here is just a brief list of some of the features that you can find thanks to our intense redesign


Real-time search from a customized toolbar

Ajax Quick reply without refreshing the page

Notifications integrated in forums, sub-forums and topics

User avatars next to names and mentions

Preview of topics content directly from subforums

Awards system integrated with FontAwesome icons

Topic icons as labels instead of images

And a lot more...



The best is yet to come, and hope you will be with us! 1st
and Welcome back on FMCodes
Troubleshooting
Of course, do not hesitate to share your feedbacks and comments, right under this announcement
Bug killers
Some bugs and issues may still occur on the board, despite the effort @Mihai and @Niko did in implementing the new design. If you experience any problem or bug that you feel needs to fixed, please let us know describing the issue you detected.
Team recruitment
We are still in an open-recruitment phase. For this reason, if you feel like you can contribute as Coders or Graphic & Web Designers, please feel free to contact @Niko via Private message for your application.

Some examples of your experience and works are welcome.