| | | |
| --- | --- | --- |
| | Add a button "Remove all notifications" in the toolbar | |
Overview
Description
A slightly more complicated script that recreates a button in the notification area, simulates the action of submitting the form (which will suppress notifications), then reloads the current page once the server has responded


Demonstration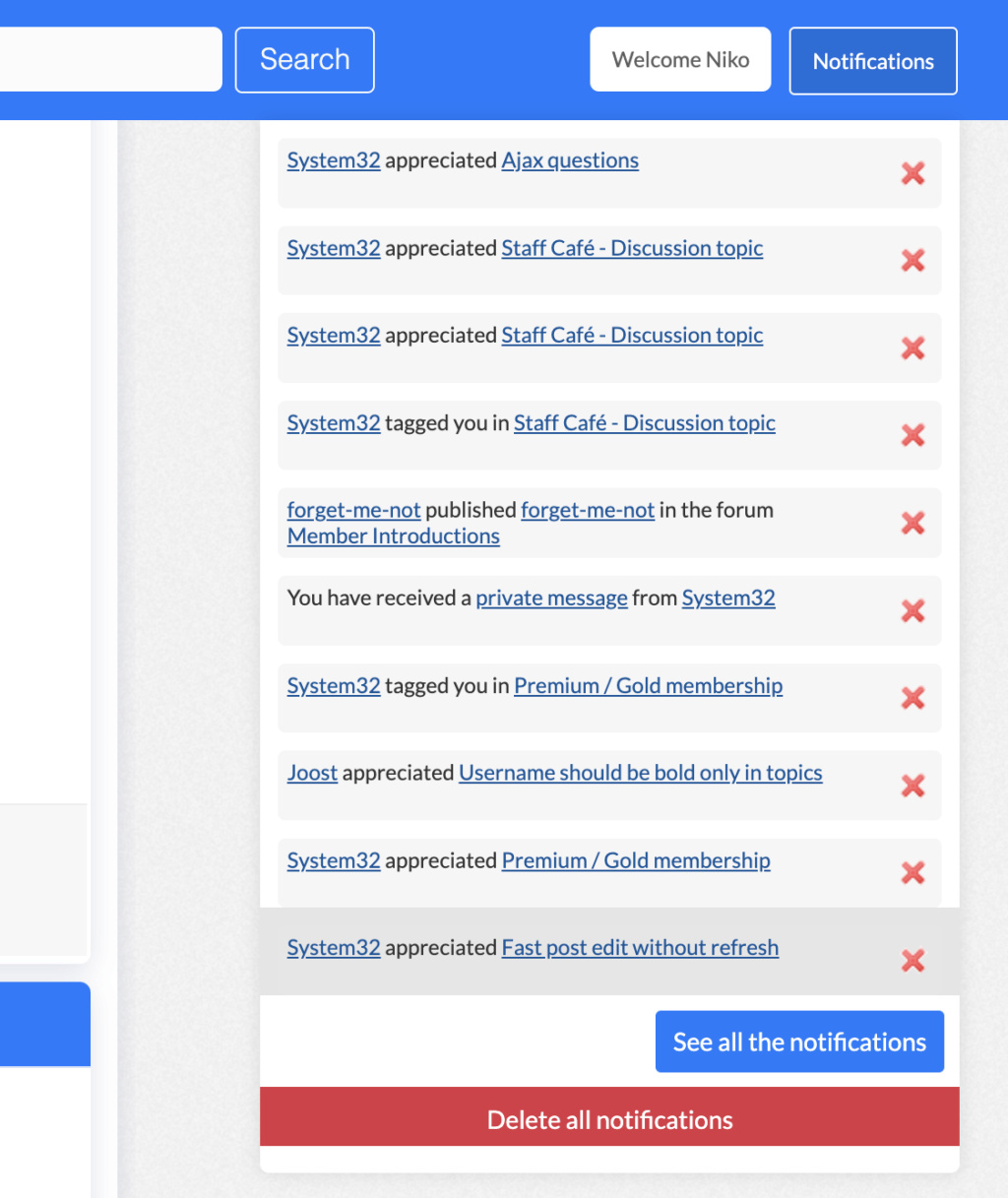 Technical limitations
› This tutorial is dedicated to the forums powered by Forumotion free forum service
› It works with all Forumotion forums' versions


Installation
CSS
In order to design the style of the resource, you need to go towards Administration Control Panel (ACP)



Display



CSS & Colors



CSS Style Sheet and add append the following code:



You need to reply to the topic in order to see the code resources





CSS Customization
You can customize however you wish!


Javascript & jQuery
For the next step you need to go towards Administration Control Panel (ACP)



Modules



HTML & Javascript



Javascript codes management and create a new code - upon verifying that Javascript codes management is enabled.


Title: free choice - does not influence the code effect
Where: All pages
Code:



You need to reply to the topic in order to see the code resources



Javascript Customization
You can modify the content of the variable
Code:

deleteNotif.innerHTML = 'Delete all the notifications';
with your own text!



Notes


Approved by
Niko



Approved on
January 18th, 2023



Tested on
Most recent browsers



Difficulty level



/





Source
Resource from Toryudo
This resource belong to this community unless differently stated.
No reproduction possible without our agreement, in accordance with article L122-1 of the CPI.