| | | |
| --- | --- | --- |
| | ScEditor color picker HTML5 | |
Overview
Description
This javascript replaces the default color picker for another one based on HTML5.
It has the "two buttons in one" style like in Microsoft Word and many other programs.


Demonstration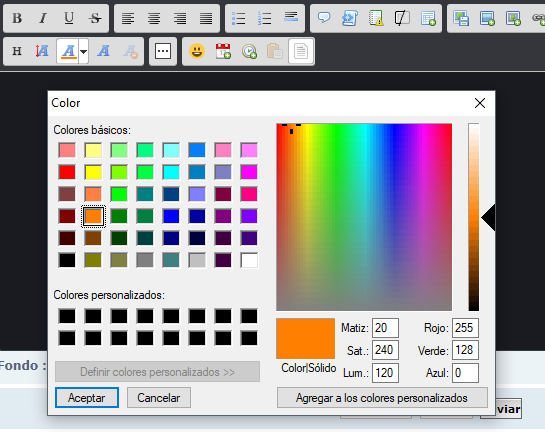 Technical limitations
› Requires to have ScEditor installed
› Forumotion forums can also benefit from this


Installation
Introduction
The last color used is also stored in localStorage, to make it more handy.


Javascript & jQuery
For the next step you need to go towards Administration Control Panel (ACP)



Modules



HTML & Javascript



Javascript codes management and create a new code - upon verifying that Javascript codes management is enabled.


Title: free choice - does not influence the code effect
Where: In all pages
Code:



You need to reply to the topic in order to see the code resources



Notes


Approved by
Niko



Approved on
January 29th, 2022



Tested on
Most recent browsers



Difficulty level



/





Source
SCEditor HTML5 Color Picker
This resource belong to this community unless differently stated.
No reproduction possible without our agreement, in accordance with article L122-1 of the CPI.